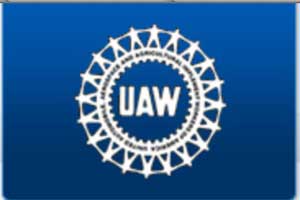 On this day in labor history, the year was 1947.
That was the day hundreds of thousands of Detroit area autoworkers returned to their jobs after bringing car production to a complete standstill.
They walked off the job to protest the union-busting Taft-Hartley bill, then pending in Congress.
Chrysler, Ford, Hudson and Kaiser-Frazer Corporation were all shut down.
George Romney, head of the Automobile Manufacturers Association decried the work stoppage as a contract violation, costing the industry millions.
The UAW called 350,000 of its members out in protest the day before.
As many as a half-million area workers walked off the job.
Two marches were organized from the east and west sides of the city that brought as many as 275,000 workers, black and white, men and women, AFL and CIO converging onto Cadillac Square.
A reported 65,000 workers from the Ford River Rouge plant alone marched as a contingent to the rally.
Planes flew overhead, trailing banners that read "Oppose Anti-Labor Legislation in Washington," "Down With Jim Crow Legislation," and "Fight Repeal of the Wagner Act."
UAW leaders addressed the crowd at the five-hour rally, stating, "the measures, if passed, would cut the heart of our unions into a thousand tattered, bloody pieces."
They declared the anti-labor bills are "nothing more than proposals to punish the innocent and reward the guilty, for the record establishes that responsibility for recent major strikes rests without exception on the shoulder of industry."
Briggs Local 212, which spearheaded the protest, marched with banners that demanded an independent labor party, while veteran autoworkers carried placards that read, "We Veterans Didn't Fight For Union-Busting."
The rally ended with the crowd singing 'Solidarity' and joining picket lines at nearby Bell Telephone, to support striking phone workers.