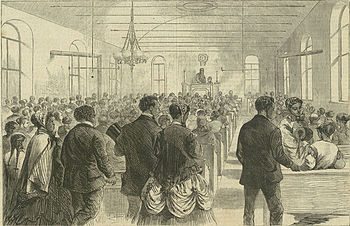 On this day in labor history, the year was 1869.
That was the day black workers met in Washington D.C. to found the Colored National Labor Union.
214 black trades people hoped to work towards equal representation in the workforce.
They also demanded antidiscrimination legislation, federally funded education and fulfillment of the promise of forty acres and a mule for Southern farmers.
34-year old black caulker, Isaac Myers, was elected president.
He had organized black caulkers in the Chesapeake shipyards.
Myers hoped to lead black workers into the National Labor Union, an early effort and building a national labor movement.
NLU founder William Sylvis insisted there should be no "distinction of race or nationality" among the ranks.
Myers added that white and black workers must come together in solidarity and organize for higher wages and living standards.
Many members of the NLU were not so progressive when it came to integrated unions.
Some of these organizations had whites-only clauses in their by-laws.
Others feared competition from black workers and voted not to extend membership. Myers understood the need to organize black workers.
While the NLU did not live up to its stated ideal of inclusion,
Myer's effort welcomed all workers regardless of race, gender or occupation and represented workers across 21 states.
They were soon confronted with the full weight of resistance and hostile bosses, media and the government brought down upon them when they tried to push for reforms of any kind.
Though the CNLU soon fell into decline, black workers carried on its ideals of interracial solidarity, during the Great Strikes of 1877.
So did the new Knights of Labor who insisted, "An injury to one is an injury to all."