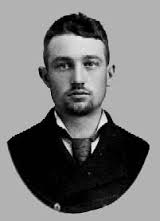 On this day in Labor History the year was 1887. 
That was the day that Louis Lingg died in prison, awaiting execution for his alleged role in a bombing at a worker's rally at Haymarket Square in Chicago the year before. 
Louis was born in Germany. 
His father worked for a lumber mill. 
One day, while trying to clear a log jam, his father fell into an icy river.  
Although Louis' father lived, he could no longer carry the same work load. 
The company fired him, despite his twenty years of service. 
Louis began to question a labor system that would let this happen. 
He became a carpenter's apprentice. 
Louis then traveled to Switzerland, where he became acquainted with anarchist worker groups. 
Finally, in 1885, Louis made his way to the United States and Chicago. 
There he joined the Carpenters and Joiners Union. 
He became an outspoken advocate for the cause of the eight-hour day.
The movement had great success in Chicago and on May 1st, or May Day, thousands marched in the streets for the eight-hour cause.
But when a bomb was thrown at a workers' rally three day later, the backlash against the labor movement was swift and brutal. 
Eight men, including Louis, stood trial and were convicted despite a lack of evidence tying them to the bombing. 
Louis Lingg and four others were sentenced to death by hanging. 
But the day before the sentence was to be carried out, Louis lit a cigar in his prison cell. 
The cigar was packed with explosives. 
The explosion left Louis in agony for hours before he finally died. 
Some believe he committed suicide rather than die at the hands of the legal system. 
Others believe he was murdered.