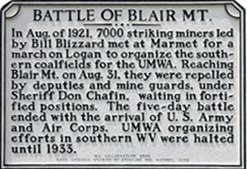 On this day in Labor History the year was 1921. 
On that day the "Battle of Blair Mountain" raged in Logan County, West Virginia. 
Members of the United Mine Workers of American were attempting to organize the minefields in the southern part of the state. 
The effort to bring workers the union was met with violent resistance. 
The miners armed themselves and marched south. 
As many as ten thousand joined the march. 
They met armed company men at Blair Mountain. 
In the battle that ensued, one million rounds were fired. 
The mine owners even hired private planes to drop bombs on the union miners. 
The US army intervened, and the battle ended. 
Despite not being successful in their march, the bloody battle brought national attention to the violence in the coal fields. 
But that was not the last Battle for Blair Mountain. 
In 2011, there was a proposal to bring mountain top removal mining to Blair Mountain. 
This type of mining blasts off large chunks of a mountains surface, to get at the coal seams below. 
Protestors stood against the proposal. 
They argued it would be environmentally devastating to the area. 
They also argued it would blast away one the most important sites of labor history in the nation. 
Some coal miners took exception to the protests. 
In a CNN documentary on the conflict, one union miner said, "Mountaintop removal is what built this house, sends that little girl to school, provides insurance for my wife…"
But another miner joined in the protest against removal.
He told CNN that miners had been "brainwashed to think, "Oh I can't have a job unless it's a mountaintop removal job."
In 2014, the state prohibited surface mining at Blair Mountain……. for now,