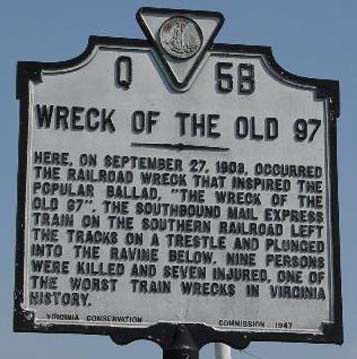 On this day in Labor History the year was 1903. 
That was the day that is remembered in Virginia as the "Wreck of old 97". 
Old 97, also known as the Fast Mail, was a Southern Railway freight train. 
It carried the mail from Washington D.C. to Atlanta, Georgia. 
The train wreck happened on the leg of the trip from Monroe, Virginia to Spencer, North Carolina. 
The train had come in late to Monroe. 
It was reported that the railway company ordered the engineer to increase the speed of the train to make up time.
The company had to pay a penalty for delivering the mail late.
But when the trained neared Danville, Virginia the tracks curved at the Stillhouse Trestle Bridge.
The speed was too much. 
Despite the engineer's efforts to slow the train, it careened off the tracks and plummeted to the rocky ravine forty-five feet below. 
Eleven of the sixteen people on board the train died, including the conductor, the engineer and the flagman, and both firemen. 
The railway company blamed the wreck on the deceased engineer.
Newspapers across the country carried photos of the wreck.
The disaster became the subject of multiple ballads. 
One version by Vernon Dalhart in 1924 is thought to be the first million-selling country record in the United States.
Johnny Cash recorded another well-known version of the song.
In 1993 an alternative country band took the name the "Old 97's" harking back to the disaster and the songs it inspired.