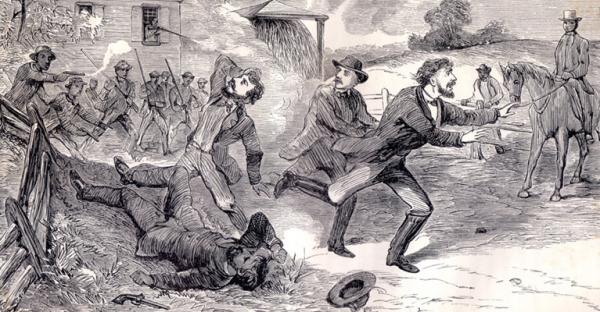 On this day in Labor History the year was 1851.  
That was the day that a Maryland planter named Edward Gorsuch was killed in Christiana, Pennsylvania.  
Gorsuch had come to Pennsylvania to try and recapture three black men that had escaped from slavery on his farm outside of Baltimore two years earlier.  
A year after the men escaped, Congress passed the Fugitive Slave Act.  
This penalized helping those who had escaped slavery, with a $1,000 fine and up to six months' jail time.  
Emboldened by the law, slave catchers chased those who had made the journey to freedom in the north. 
Gorsuch received news that the men he was looking for were in Lancaster County, Pennsylvania.  
Two of the escaped slaves were at the farm of William Parker, a black man who had also escaped slavery in Maryland.  
Located just north of the Mason-Dixon line, Lancaster had a well-established underground railroad network.  
An armed black self-defense group had developed to stand against the slave catchers.  
Gorsuch and his son gathered a group of men and headed north.  
At the Parker farm they were confronted by a group of at least fifty black men armed with guns and pitchforks.  
Gorsuch refused to leave, and a gun battle erupted.  
Gorsuch was shot and killed in the exchange of fire.  
Parker, his family, and the three formerly enslaved men fled to Canada.  
Thirty-eight others who were there that day were charged with treason for taking part in the confrontation. 
This included Castner Hanway a white man who had tried to defuse the standoff. 
None of the charged were ever convicted.  
In the south, slave owners were outraged that no one was punished.  
Tensions between the North and South sharpened.  
As a result, the country moved closer to Civil War, the bloody conflict that finally ended slave labor.