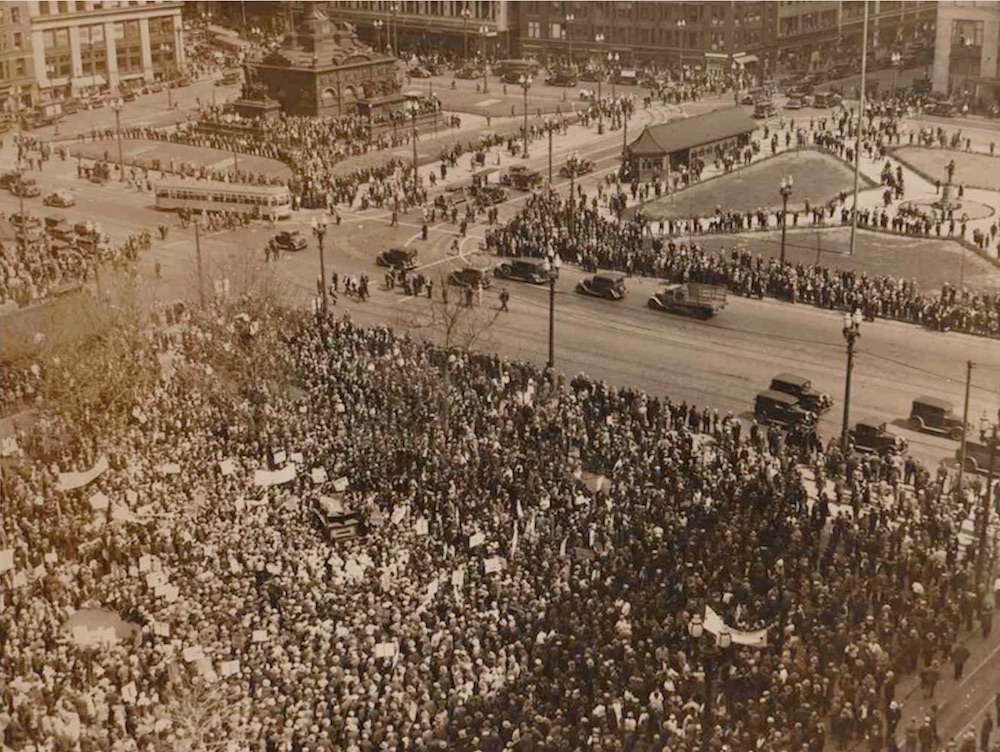 On this day in labor history, the year was 1919.
That was the day May Day celebrators in Cleveland, Ohio were attacked as they marched to protest the imprisonment of Socialist, Eugene V. Debs.
1919 was a year of massive upheaval, marked by countless strikes and protests, riots and bomb threats.
But much of the country was still caught up in the jingoism of the war. 
Debs had just entered prison to serve a ten-year sentence.
He had been convicted in Cleveland of sedition for an anti-war speech he gave in Canton, Ohio the year before.
Thousands of trade unionists, anarchists, socialists and communists marched towards Public Square in downtown Cleveland.
Prominent Socialist Charles Ruthenberg led one of the contingents.
He planned to address the rally in defense of Debs and also to promote his candidacy in the upcoming mayoral elections.
May Day marchers carried Red flags and American flags, and banners reading "Workers of the World, Unite."
Liberty Loan workers stopped them en route, demanding they lower their flags.
Marchers refused and attempted to proceed towards downtown.
Fighting broke out in the streets and lasted for hours until mounted police and army tanks charged the crowd.
Two were killed, at least 40 seriously injured and as many as 120 were arrested.
Ruthenberg was charged with "assault with intent to kill," though charges were later dismissed.
Socialist Party headquarters were ransacked.
The city immediately moved to restrict parades and socialist meetings, and banned red flags.
Local newspapers were quick to scapegoat immigrants and their supposed Bolshevik sympathies for the riot.
The attack in Cleveland served as an early warning of the Red Scare that would fully erupt by the end of the year.