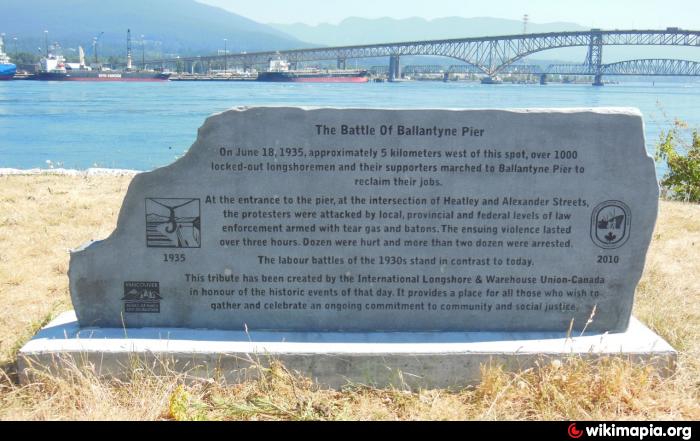 On this day in labor history, the year was 1935.
That was the day more than a thousand locked out dockworkers battled police forces in Vancouver, British Columbia in the 'Battle of Ballantyne Pier.' 
The dispute began weeks earlier when the Shipping Federation locked out dockworkers at Powell River, using scabs to load and unload cargo. 
Shipping magnates feared Communist leadership had taken over the company unions they established in the 20s. 
Workers at other ports in British Columbia now refused to handle Powell River cargo and were locked out. 
Hot cargoing was the main issue. 
But dockers also demanded higher wages, union recognition and fair dispatching.
The previous year's West Coast Waterfront strike had put dockworkers everywhere in a fighting mood.
In Vancouver, dockers ousted management lackeys from their union and voted in a radical leadership during a recent election. 
Shipping bosses, local politicians and businessmen all cried 'Bolshevik Menace.' 
They formed a Citizens League and prepared for battle. 
On this day, striking dockers marched to Ballantyne Pier, where they had been denied the right to picket.
They were determined to stop the scabbing and intended to confront scabs directly. 
Led by World War I veteran, Mickey O'Rourke, dockers were abruptly stopped at the pier entrance by Vancouver Police. 
Immediately, they were beaten and tear gassed by club-wielding police and despised specials. 
Soon British Columbia Provincial Police and Royal Canadian Mounted Police emerged to join in on the assault. 
The fighting continued for three hours. 
Police horses trampled many as they tried to escape. 
Scores were hospitalized and arrested. 
The strike dragged on for months and ended in defeat. 
But dockers would win the war through ten years of hard, dedicated organizing that culminated with an ILWU charter in 1945.