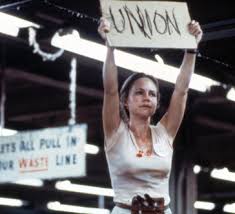 On this day in labor history, the year was 1914.
That was the day garment workers gathered in New York City to found the Amalgamated Clothing Workers of America.
It was a revolt against the conservative United Garment Workers union. Garment workers across the country had complaints against the UGW.
The new ACWU leaders held a simmering resentment over a bad deal made after the 1910 Chicago strike in the men's clothing industry.
Then, in 1914, UGW tops refused to seat New York City delegates at the Nashville convention.
Chicago delegates protested and both walked out of the conference.
They had had it with the dominance of white, skilled craftsmen in a union whose members were largely immigrant women.
Early on, the ACWA emphasized industrial organizing and social unionism.
With Sidney Hillman as their first president, the union engaged in many strikes, winning the 44-hour workweek in 1919.
It provided such benefits to its members as cooperative housing, child day care, unemployment insurance, and collectively bargained health and life insurance plans. It also established the Amalgamated Bank.
By the late '20s, the union boasted a membership of over 100,000. Having never joined the AFL, it quickly signed up with the new CIO and coordinated its work with the Textile Workers Union of America in 1937.
The ACWA continued to organize successfully.
In 1963, these unions embarked on what became a 17-year organizing drive and boycott at J.P.
Stevens, popularized in the movie, Norma Rae.
They led other successful campaigns in the '70s, including at Farah clothing and championed investigations into "brown lung" disease.
The union has since undergone a number of mergers and splits, and is now known as Workers United.