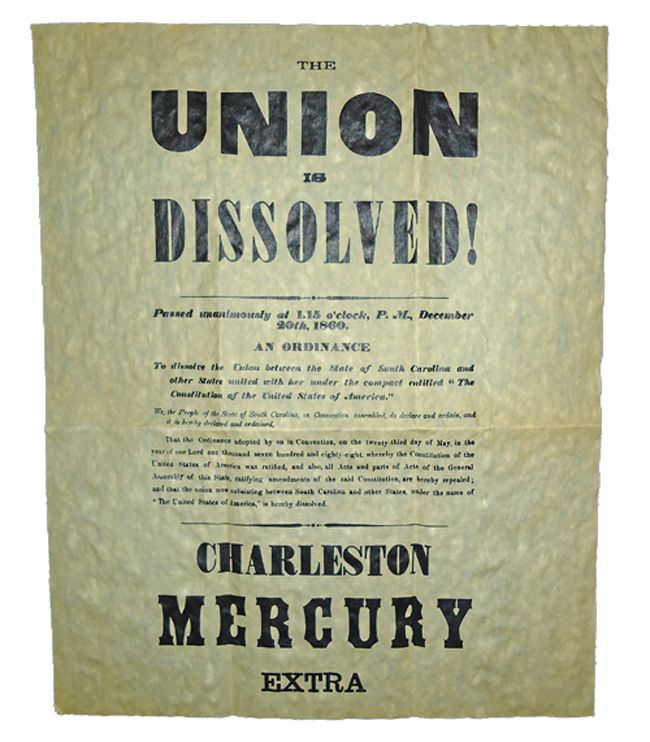 On this day in labor history, the year was 1860. 
That was the day South Carolina announced, "The Union is Dissolved!" 
The pronouncement was a direct response to the presidential election of Abraham Lincoln a month earlier. 
South Carolina was the first of eleven states to secede from the Union.
They were resolved to preserve their system of slave labor.  
Many debate the reasons why and will cite States' rights or tariffs and taxes as primary causes. 
But South Carolina issued a "Declaration of Immediate Causes" just four days after its State legislature passed the Ordinance of Secession. 
According to James Loewen, author of The Confederate and Neo-Confederate Reader, this declaration opposed Northern states' right of refusal to support slavery. 
It stated there was "an increasing hostility on the part of the non-slaveholding States to the institution of slavery… that the Northern states had failed to fulfill their constitutional obligations" by interfering with the return of fugitive slaves to bondage. 
South Carolinians were also upset they could no longer travel to Northern states with their slaves in tow. 
They were furious that New England states allowed black men to vote. 
The declaration complains that Northern states have "denounced as sinful the institution of Slavery; They have permitted the open establishment among them of societies whose avowed object is to disturb the peace and eloign the property of the citizens of other states.
They have encouraged and assisted thousands of our slaves to leave their homes: and those who have remained, have been incited by emissaries, books and pictures to servile insurrection." 
Other Confederate states would craft similar documents. 
The Civil War to end slavery would begin in Charleston, South Carolina the following April.